APPETIZERS
Served All Day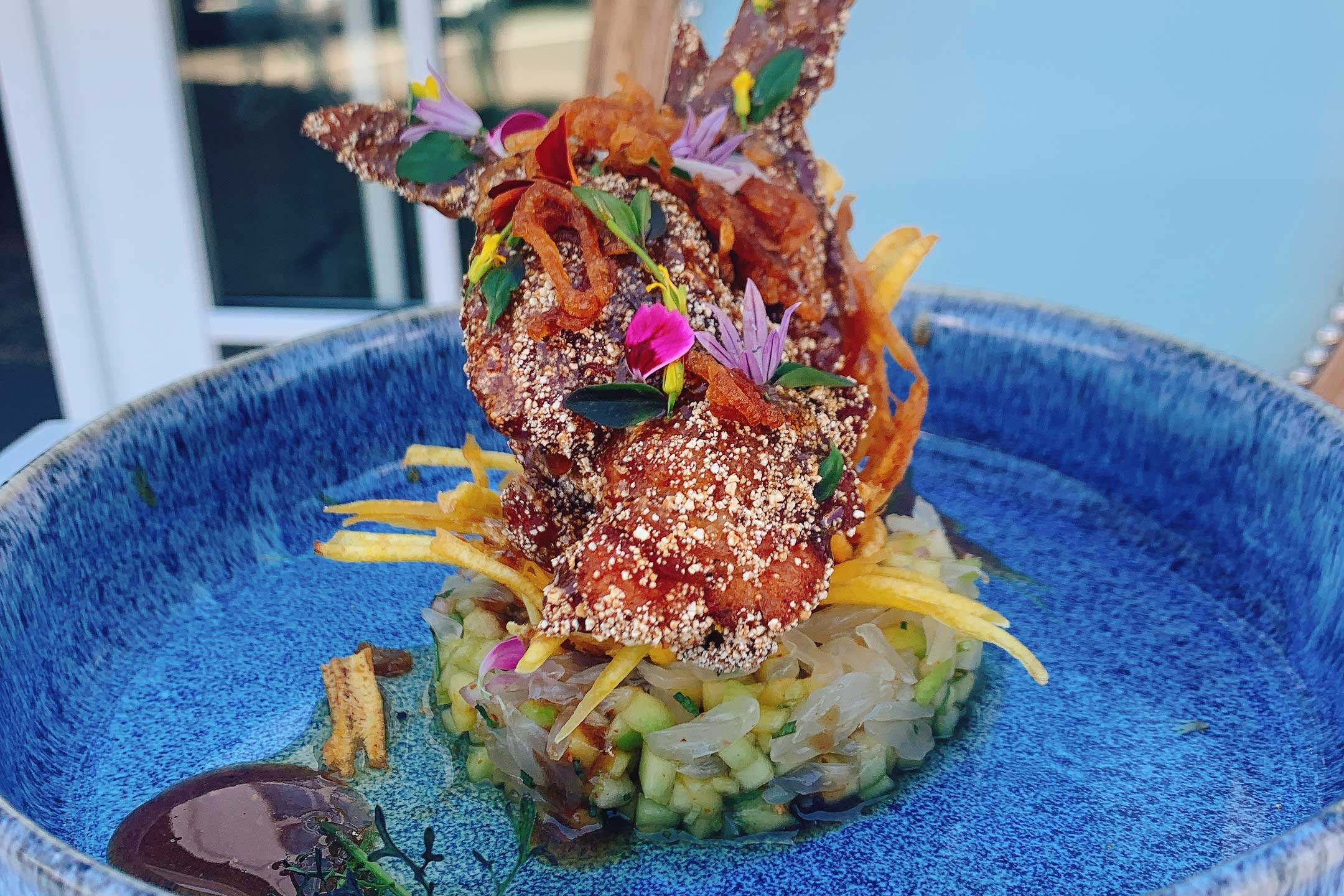 Ballerina Wings
2 Fried boneless Chicken Wings with Tamarind-Palm Sugar Sauce & Tropical Fruit Salsa
Bechamel Taro Nachos
Marinated Tamarind Prawns with Avocado Bechamel Sauce served over fresh Taro Chips, topped with Swiss & Mozzarella Cheese.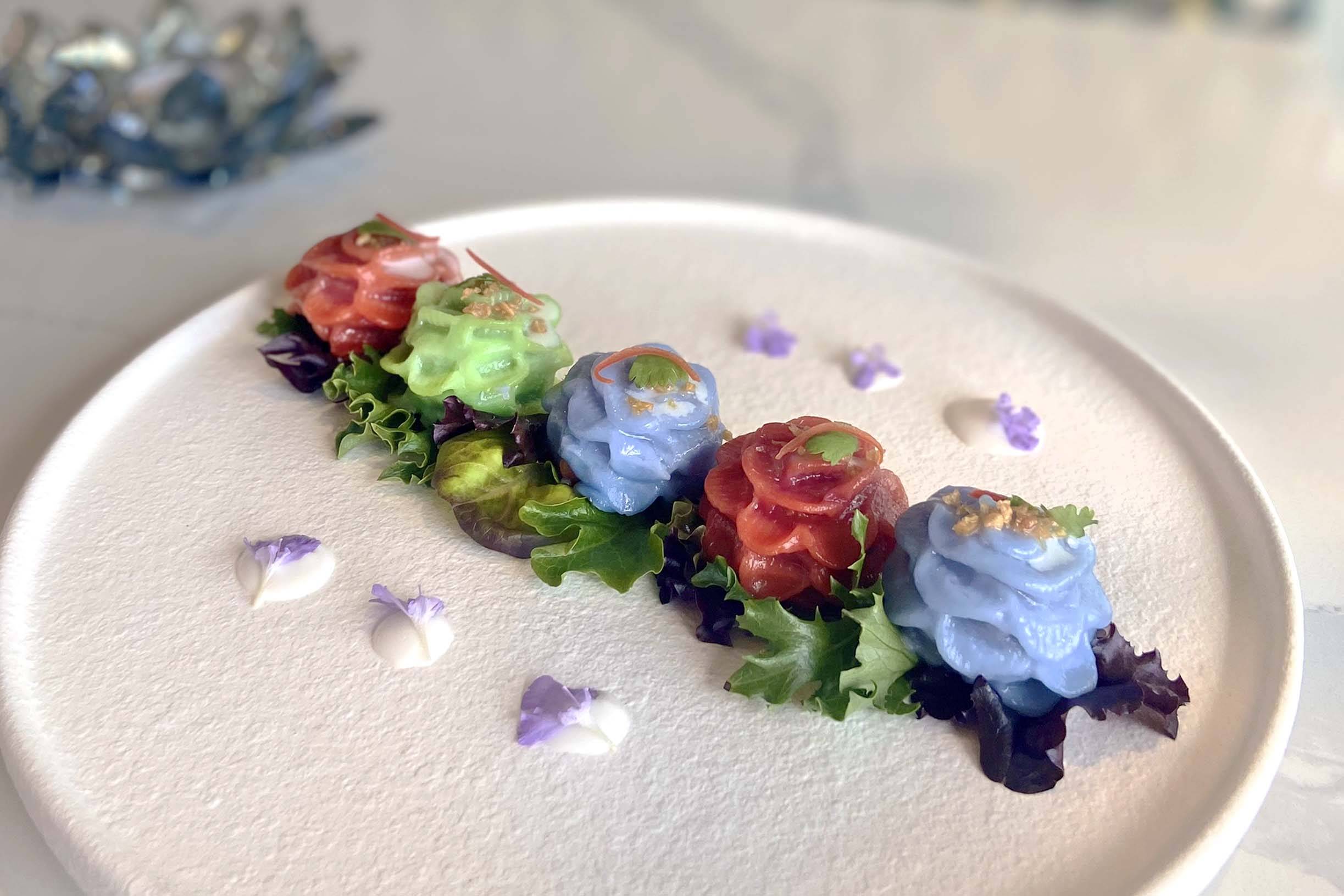 Chor Muang Flower Dumplings
Traditional Thai Flower Dumplings, stuffed with Chicken (2), Pork (2) and Veggie (1) seasoned filling with Peanut, Sweet Radish, Onion & Cilantro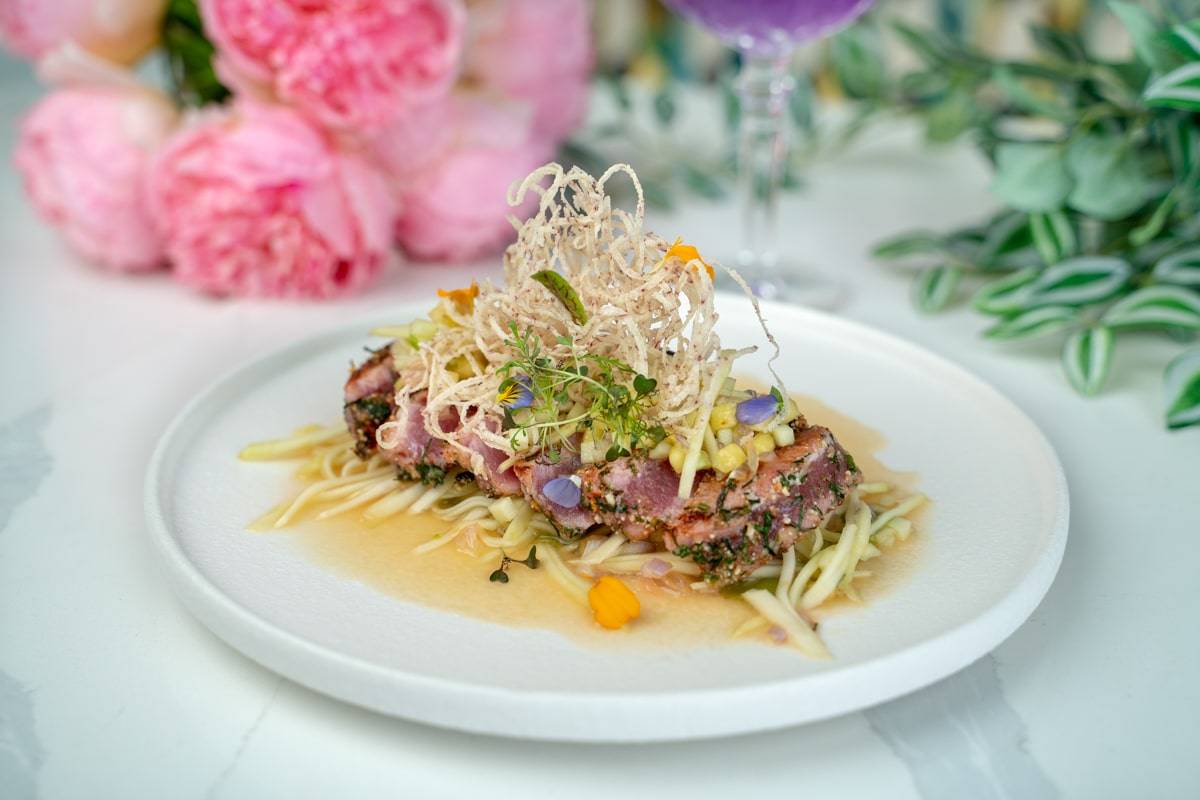 Seared Mango Tuna
Appy-sized Ginger Marinated seared Ahi Tuna, served with Green Mango Salsa & Avocado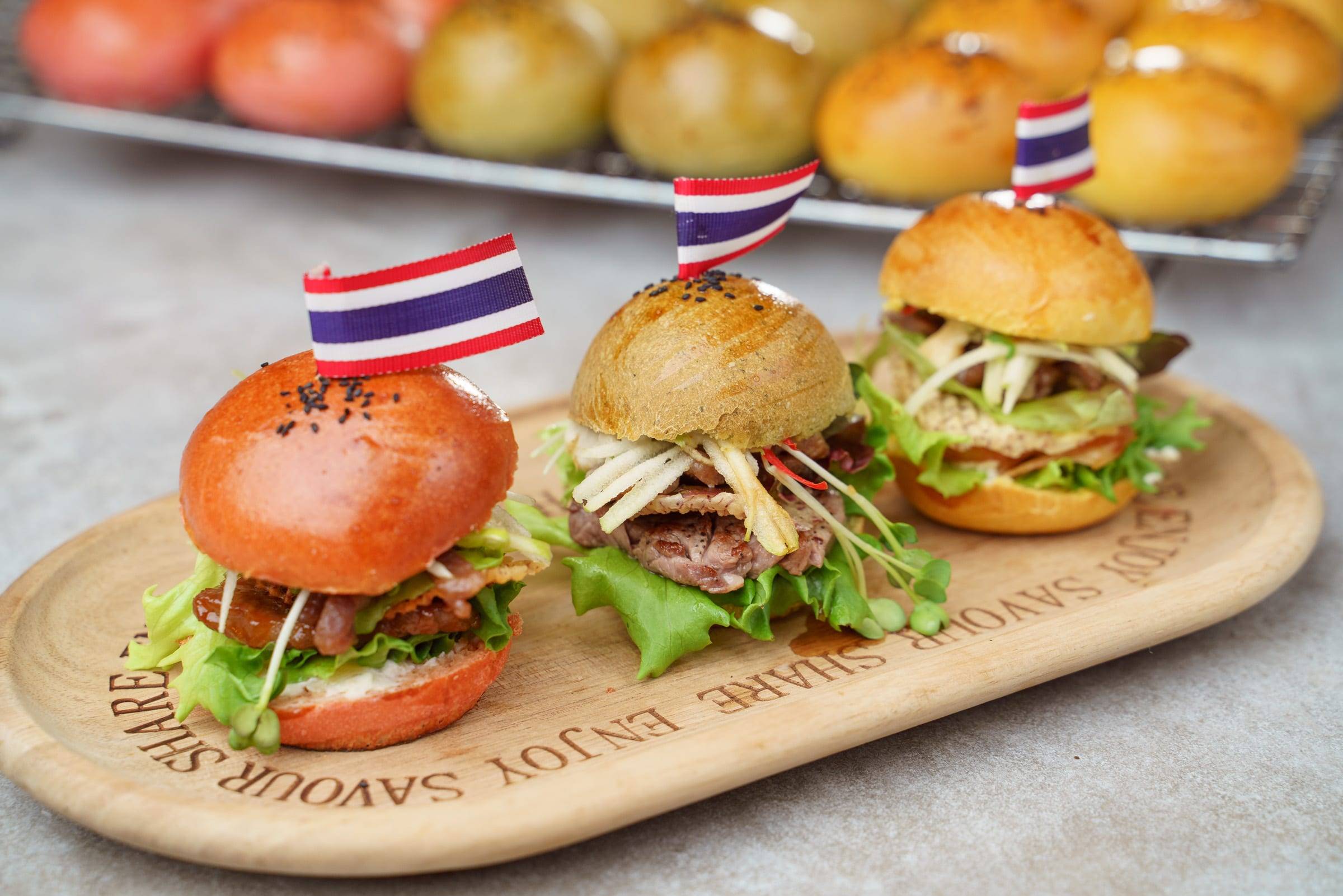 Siam Sliders
3 uniquely different sliders with homemade buns:
• Lemongrass Chicken, Green Mango & Red Curry in a Beetroot Bun
• Grilled Prawn, Green Mango & Yellow Curry in Pumpkin Bun
• Grilled Marinated Pork, Green Mango & Green Curry in a Spinach Bun & Asparagus with a Red Curry & Basil
Eggplant Chicken Roulade
Marinated chicken, lemongrass, oyster sauce, served with spicy herb
sauce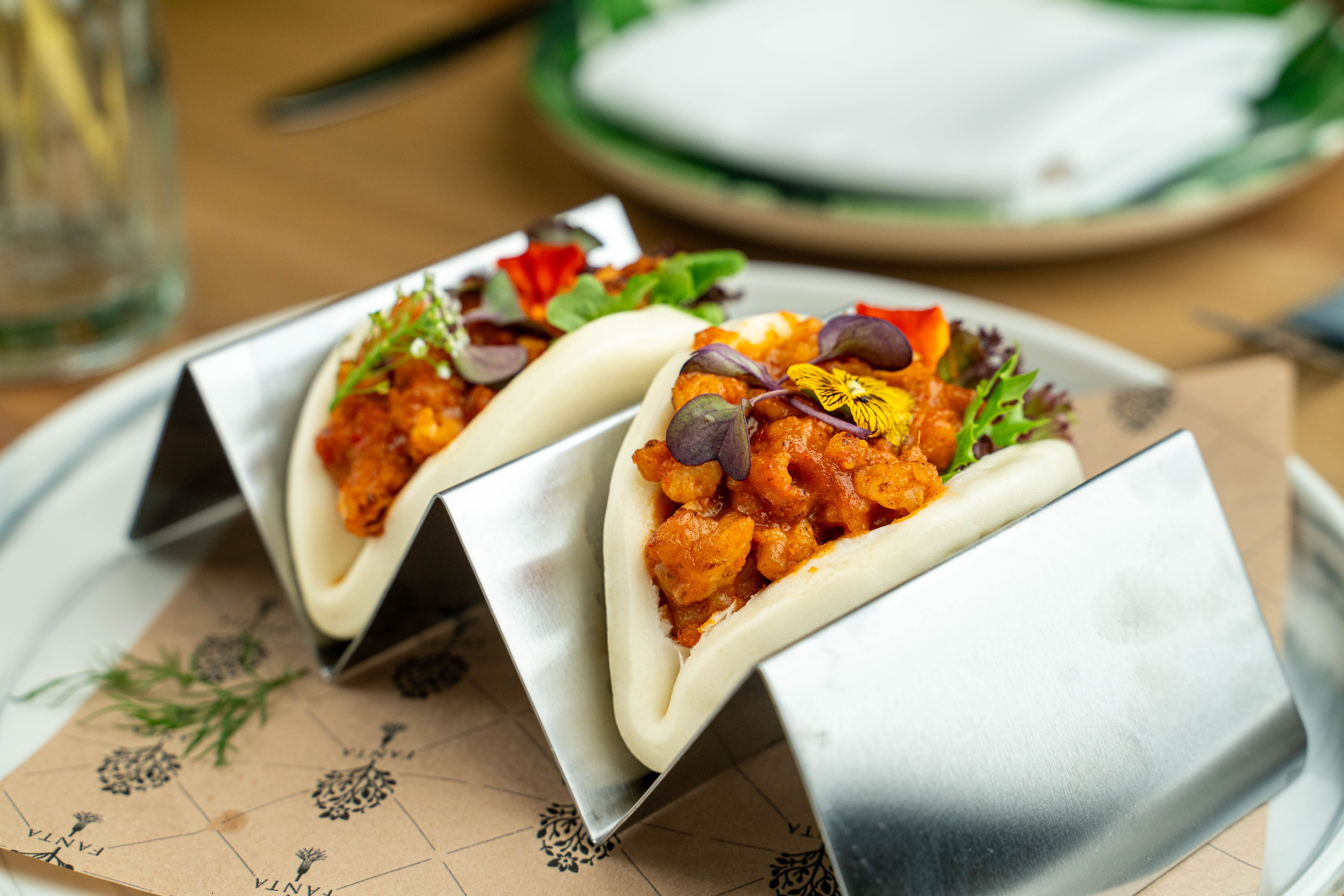 Namprik Ong Prawn Bao
Prawns, Swiss cheese, green salad served with namprik sauce
Brunch & Lunch
Served until 2:30 p.m.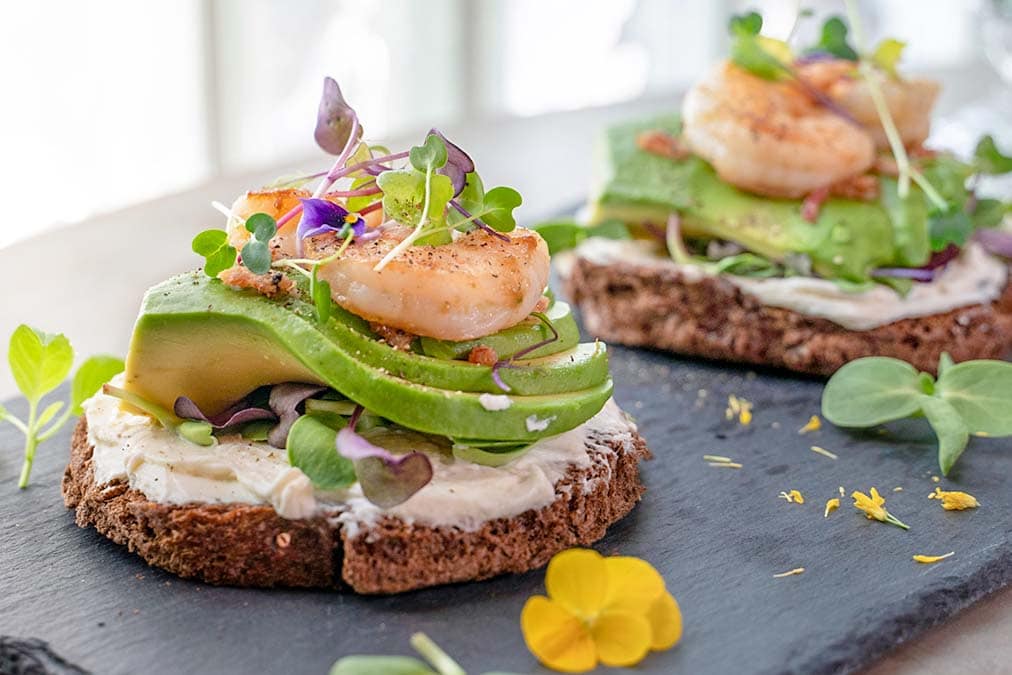 Avocado Prawn Toast
Avocado, Prawns, Bacon Seasoning, Micro Greens on Homemade Toast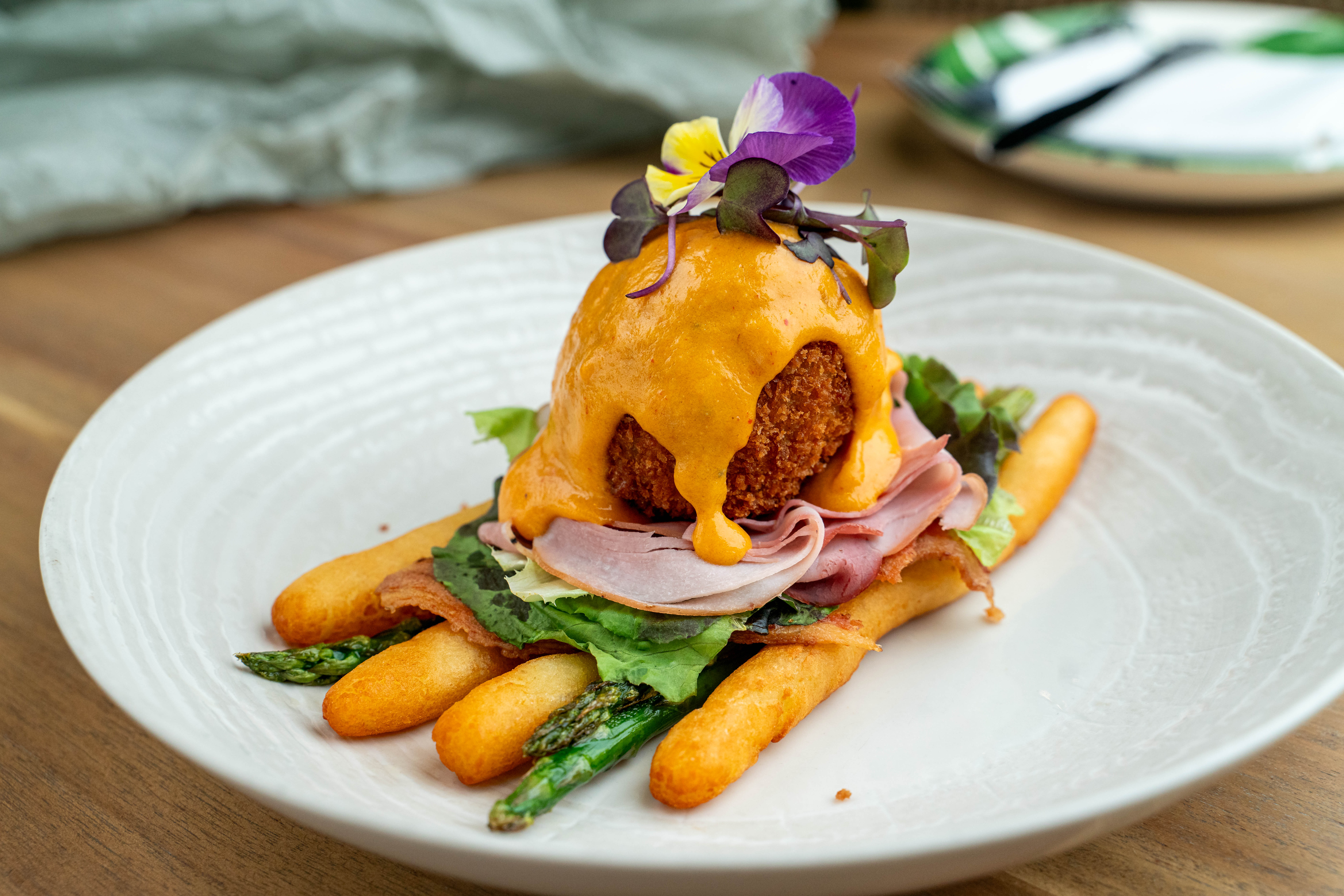 Hidden Gold Benny
Our take on eggs benedict, with a poached egg in a seasoned pork ball wrap served on bacon, lettuce & ham over herbal fries & asparagus with a red curry, basil, white wine hollandaise sauce
Stuffed Omelette
2 Eggs, seasoned Pork, Onion, Cilantro, Bell Peppers, Garlic, served with Garlic Nugget Potatoes
Belgian Waffle
With Fruit & Ice Cream or Bacon and Maple Syrup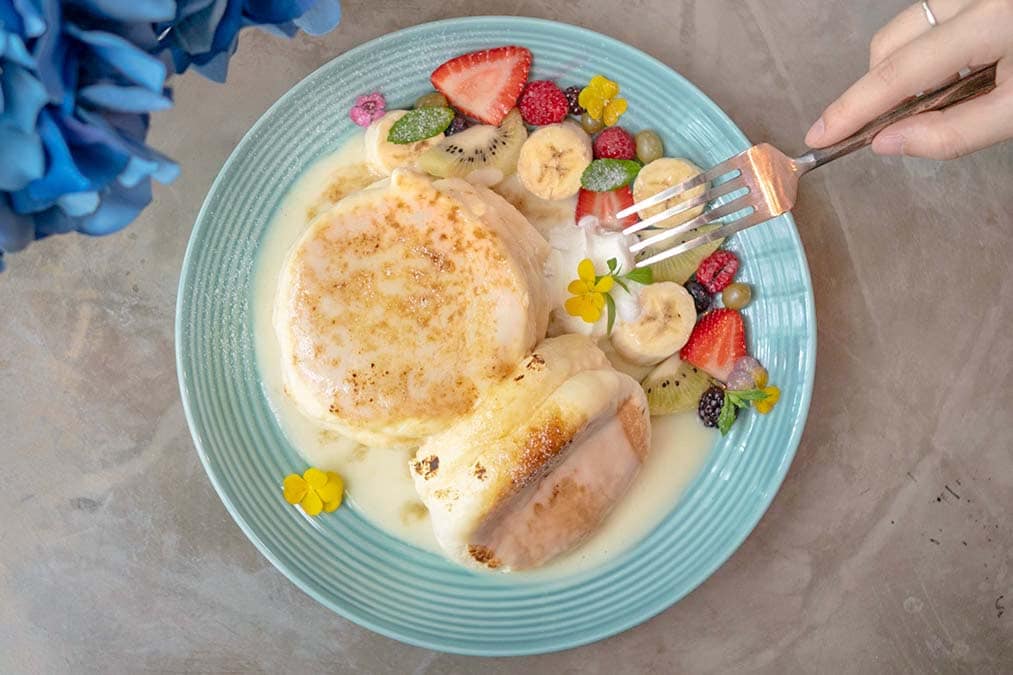 Soufflé Pancake
Fluffy Pancake & Fresh Fruit, topped with Crème Brûlée Sauce (takes approximately 35 minutes to prepare)
Grilled Cheese Chicken Waffle
Waffle, Fried BBQ Chicken, Cheddar, Mixed Greens, Avocado Herbal Mayo & Microgreens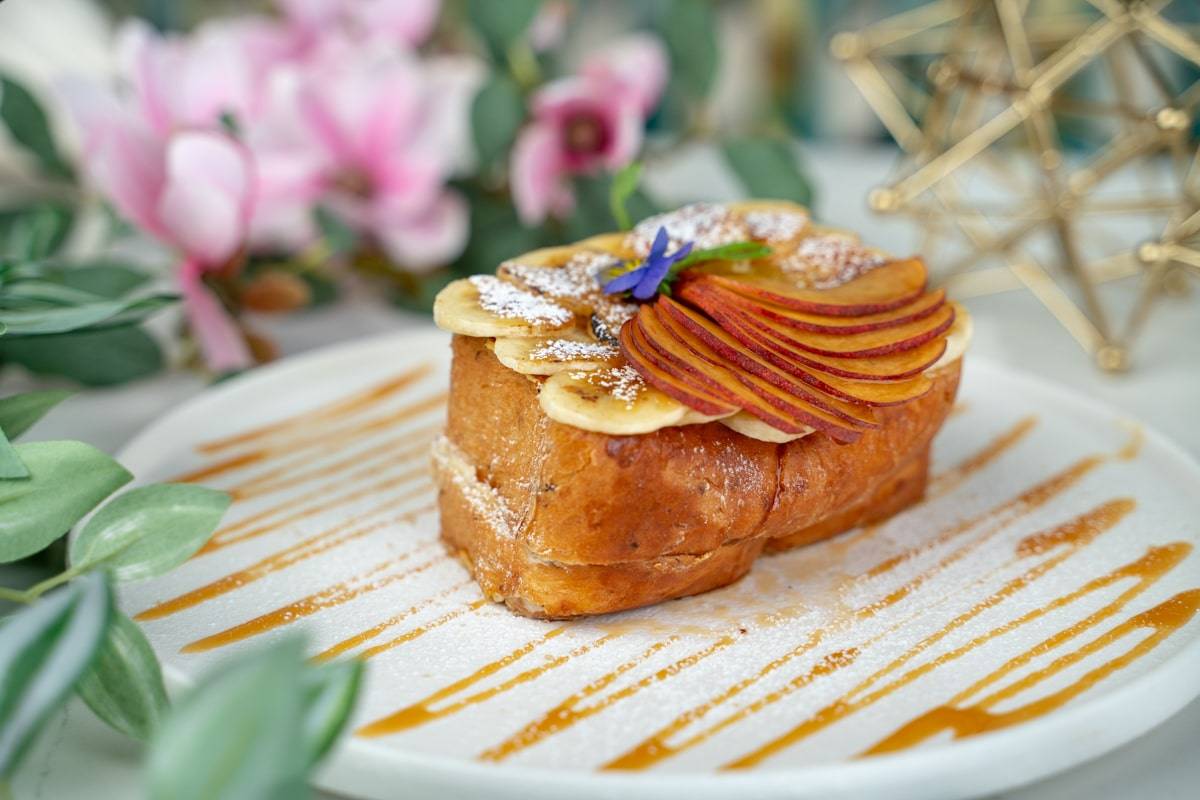 Menagerie French Toast Brulée
Pandan Leaf Custard & Bacon Bread, Peach Cream stuffed French Toast with Banana Brulée, topped with Coconut Caramel Sauce & Syrup
Pork Tenderloin Schnitzel
Marinated Breaded Pork Tenderloin, Pineapple BBQ Sauce, Mixed Greens, Candied Walnuts, Raspberry Vinaigrette
Midnight Burger
Homemade Beef Burger & bun with Bacon, Tomato, Cheddar Cheese & special sauce in a Charcoal Bun, served with either Taro & Yam fries or Salad
Dinner
Served from 2:30 p.m. to Close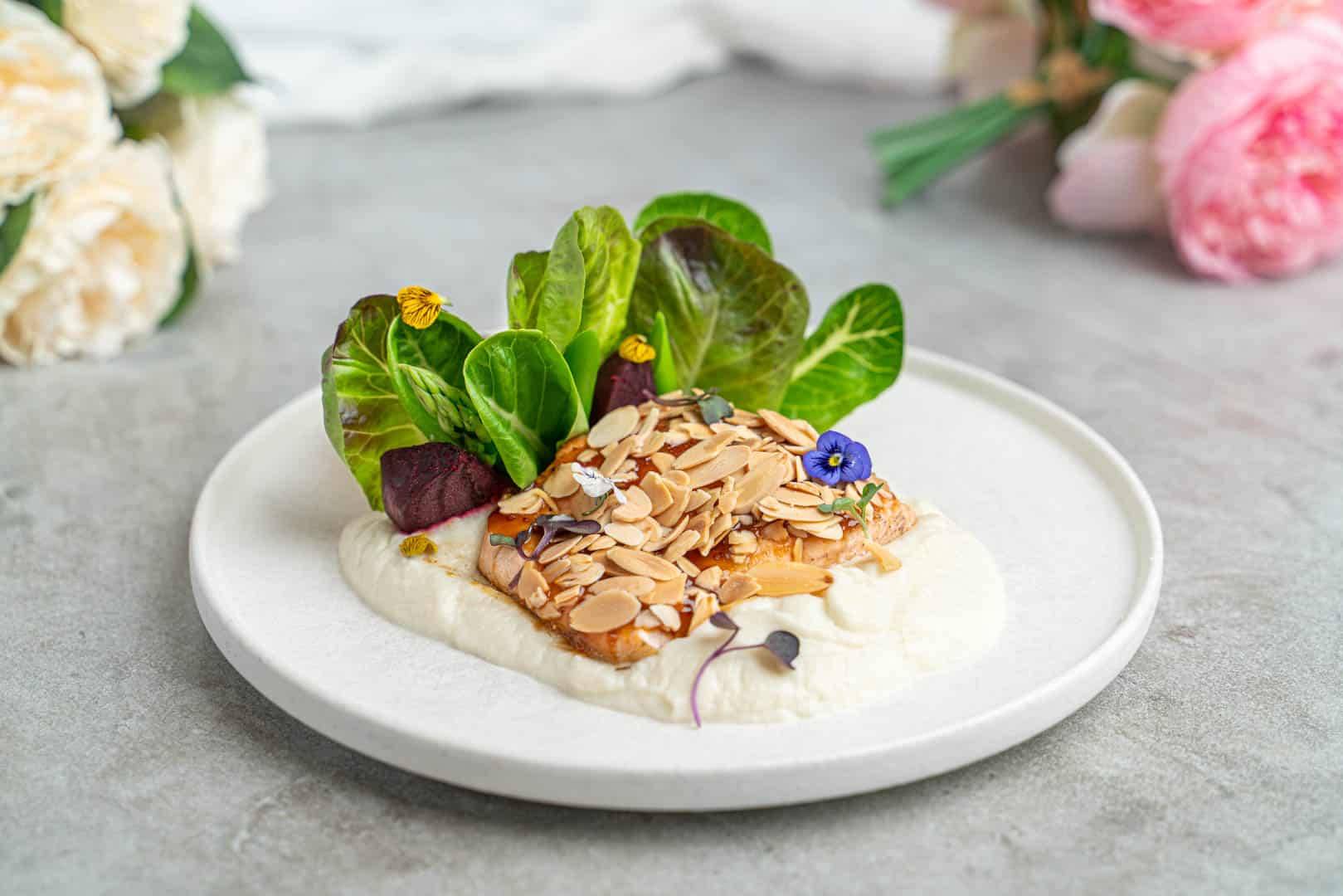 Almond Crusted Arctic Char
Pan-seared arctic char, served with cauliflower purée, asparagus & beets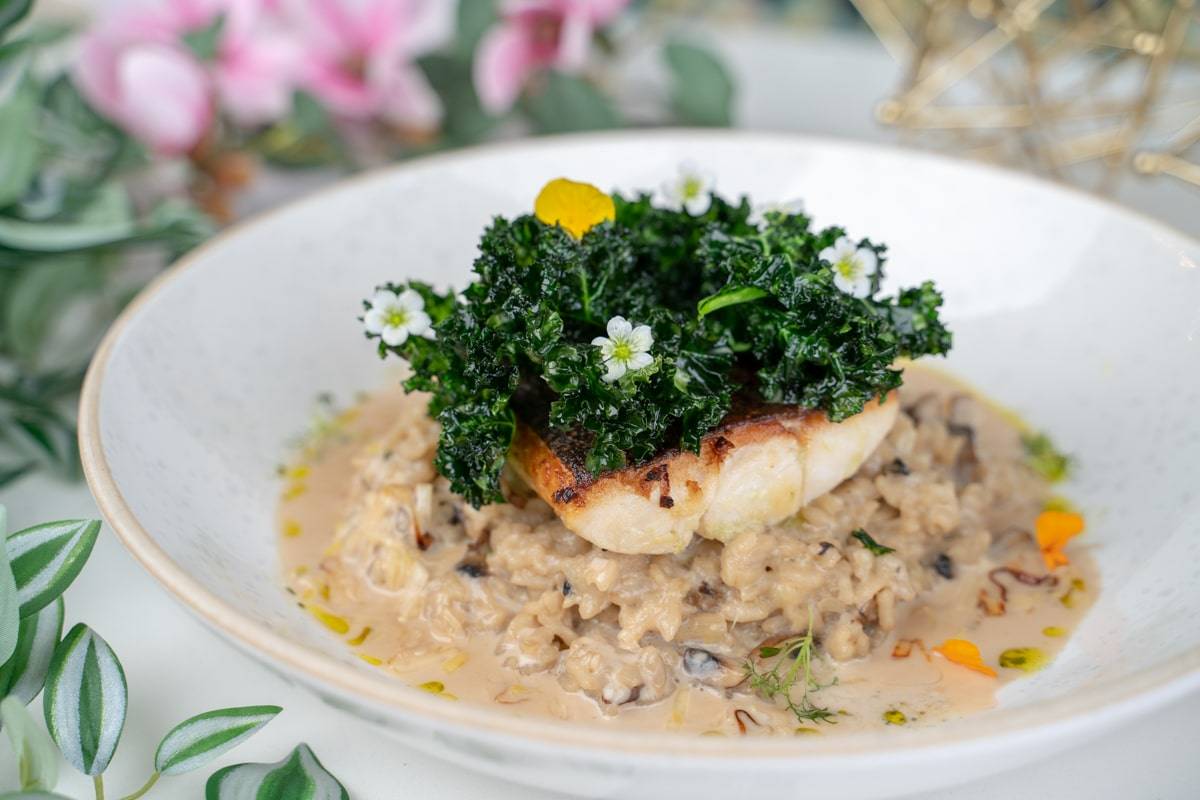 Sablefish Risotto
Pan-seared sablefish, served with portabello mushroom risotto and Swiss cheese
Fettuccini Scallop Pad Cha
Scallops, Basil, Parmesan, Peppercorn, Green Peas, Ginger Pad Cha sauce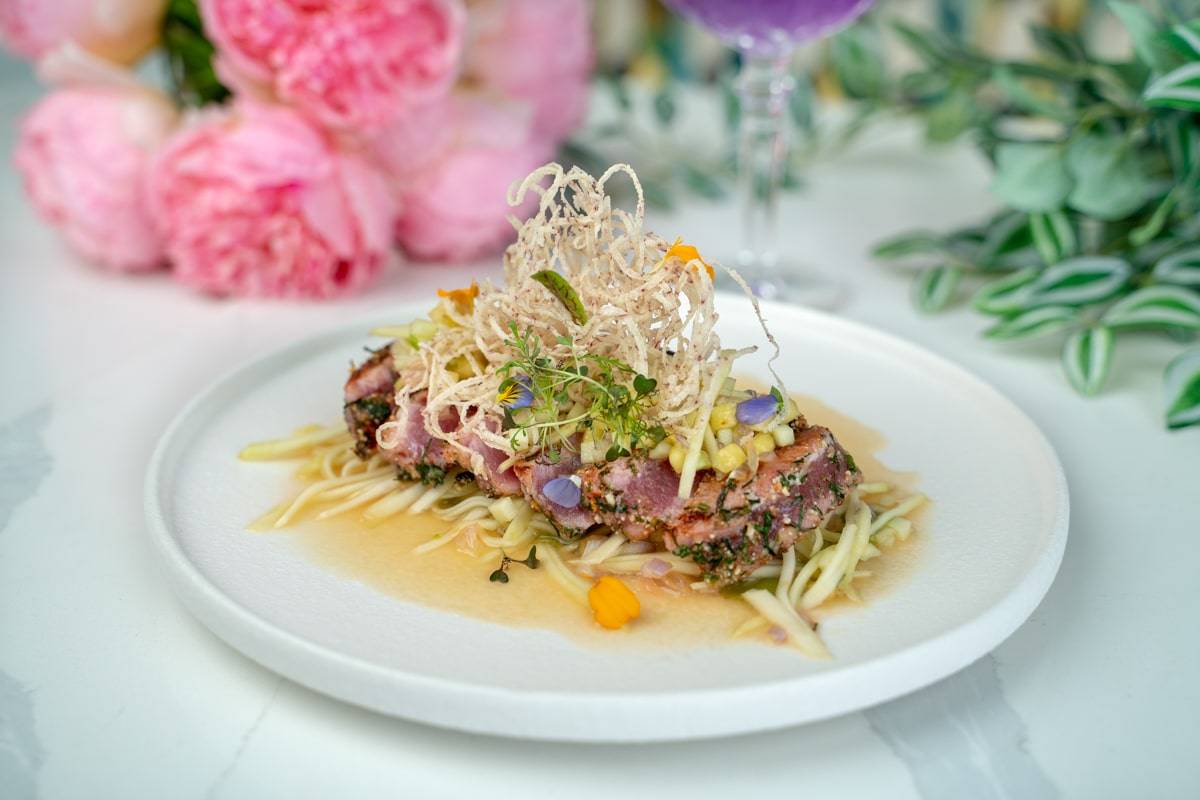 Seared Mango Tuna
Ginger marinated ahi tuna, served with green mango salsa & avocado
Midnight Burger
Housemade beef burger with bacon, tomato, cheddar cheese & special sauce in a housemade charcoal bun. Choice of taro & yam fries or salad.
Sous Vide Thai Khao Soi Steak
Triple AAA Steak served with egg noodles, seasonal veggies, spicy khao soi gravy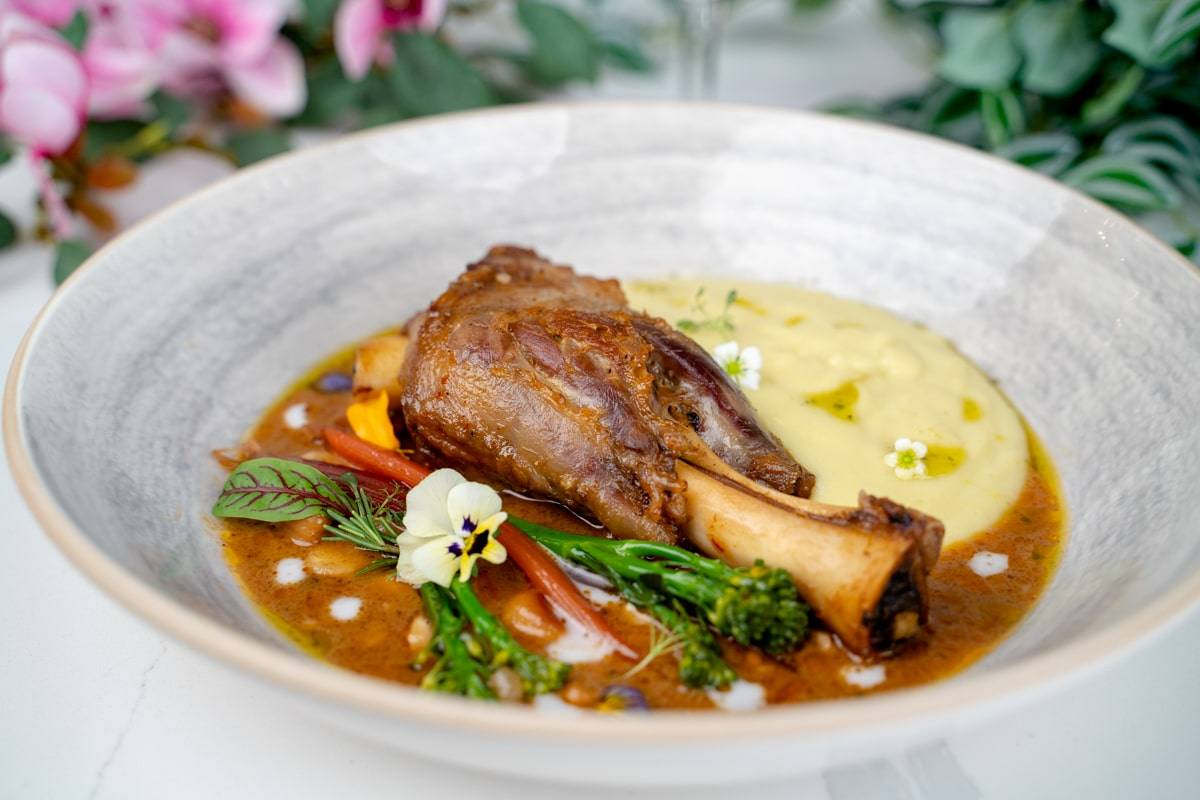 Massaman Lamb Shank
Braised, premium grade lamb shank, served with hand mashed pomme purée, tamarind, carrot & broccoli
Pork Tenderloin Schnitzel
Marinated breaded pork tenderloin, pineapple BBQ sauce, mixed greens, candied walnuts, raspberry vinaigrette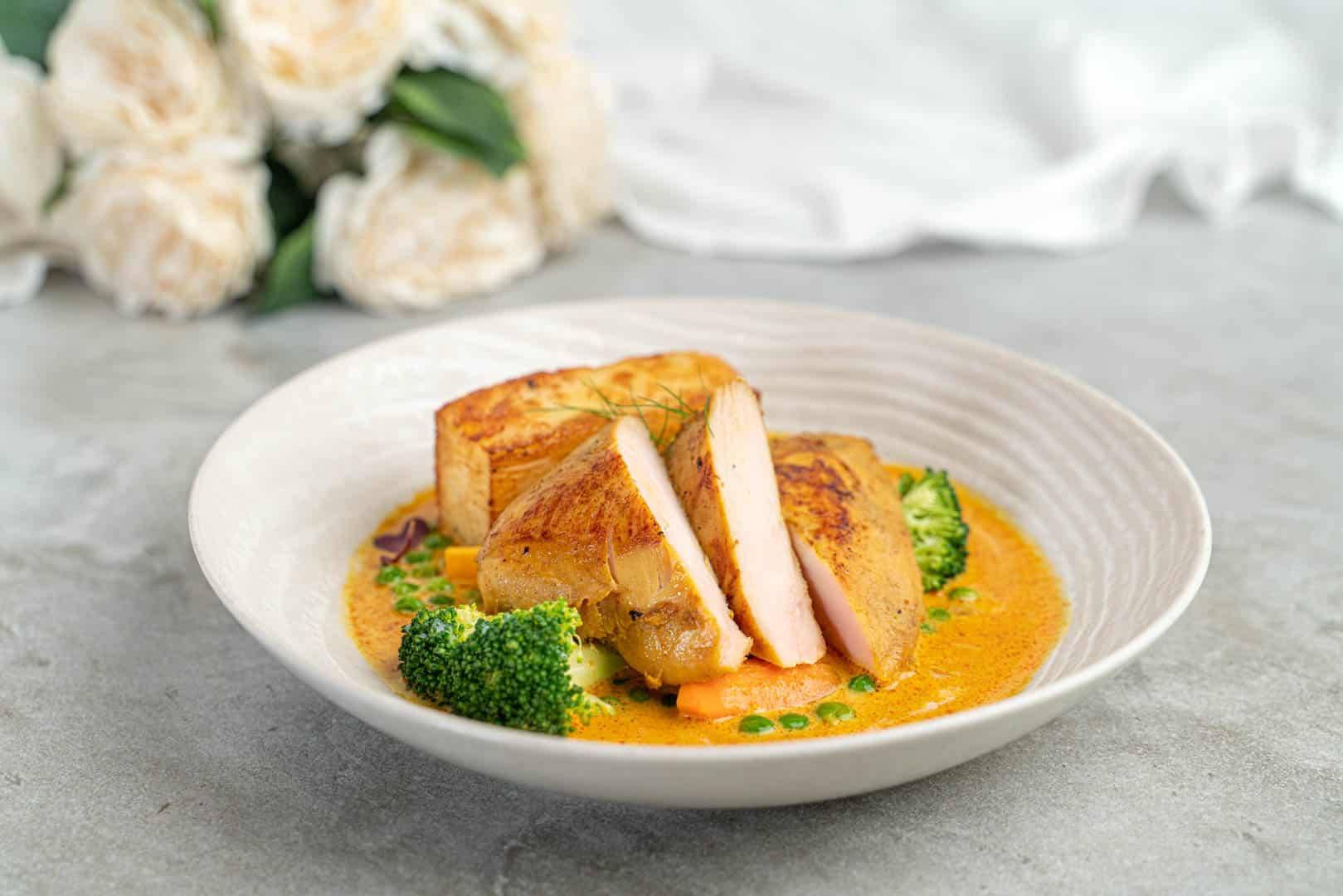 Yellow Curry Garlic Chicken
Pan-seared garlic chicken breast, served with roasted potato pavé, seasonal vegetables & yellow curry sauce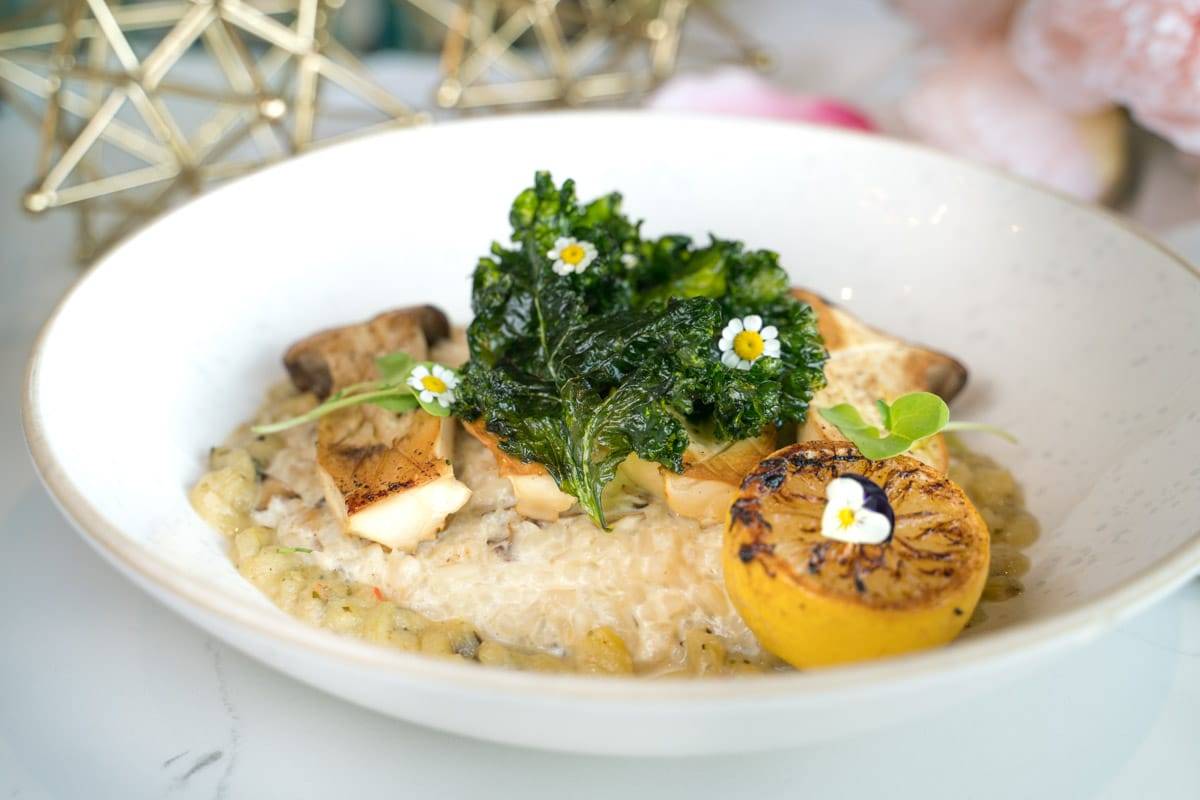 King Oyster Mushroom Risotto
Tom kha broth risotto, grilled mushrooms with Swiss cheese
Soups & Salads
Served All Day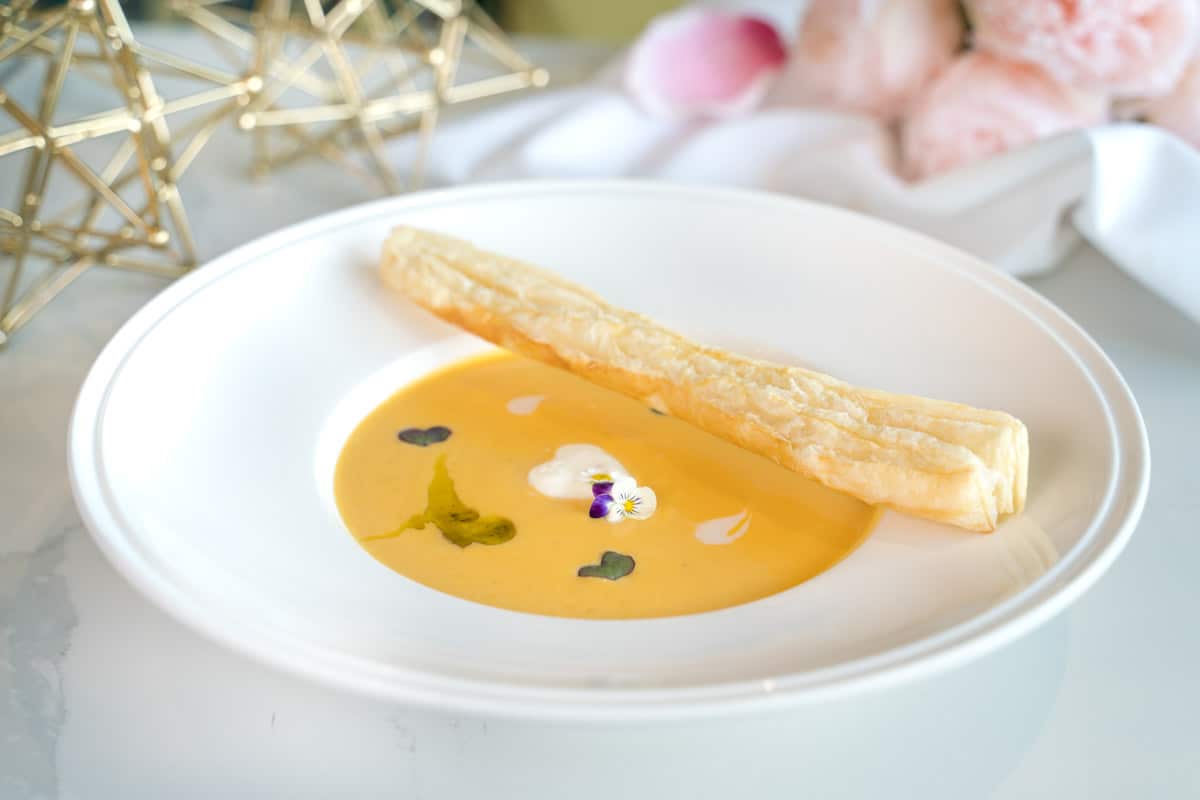 Gang Liang Soup
Butternut squash, lemon basil, lesser ginger, shrimp paste, cream cheese ice cream
House Salad
Mixed greens, apple, grilled pineapple, red onion, cherry tomatoes, candied walnuts, sliced almonds, cucumber, havarti cheese, avocado with a raspberry vinaigrette
• Grilled lemongrass chicken (+7)
• Breaded spicy fried chicken (+7)
• Grilled prawns (3) (+8)
• Extra avocado (1/2) (+5)
Apple Tarte
French style Apple tarte served with coconut rum ice cream. Gala apple and puff pastry
Banoffee Crumble
Layers of Banana, Strawberry, Cream & Cookie Crumble with a Coconut Caramel Sauce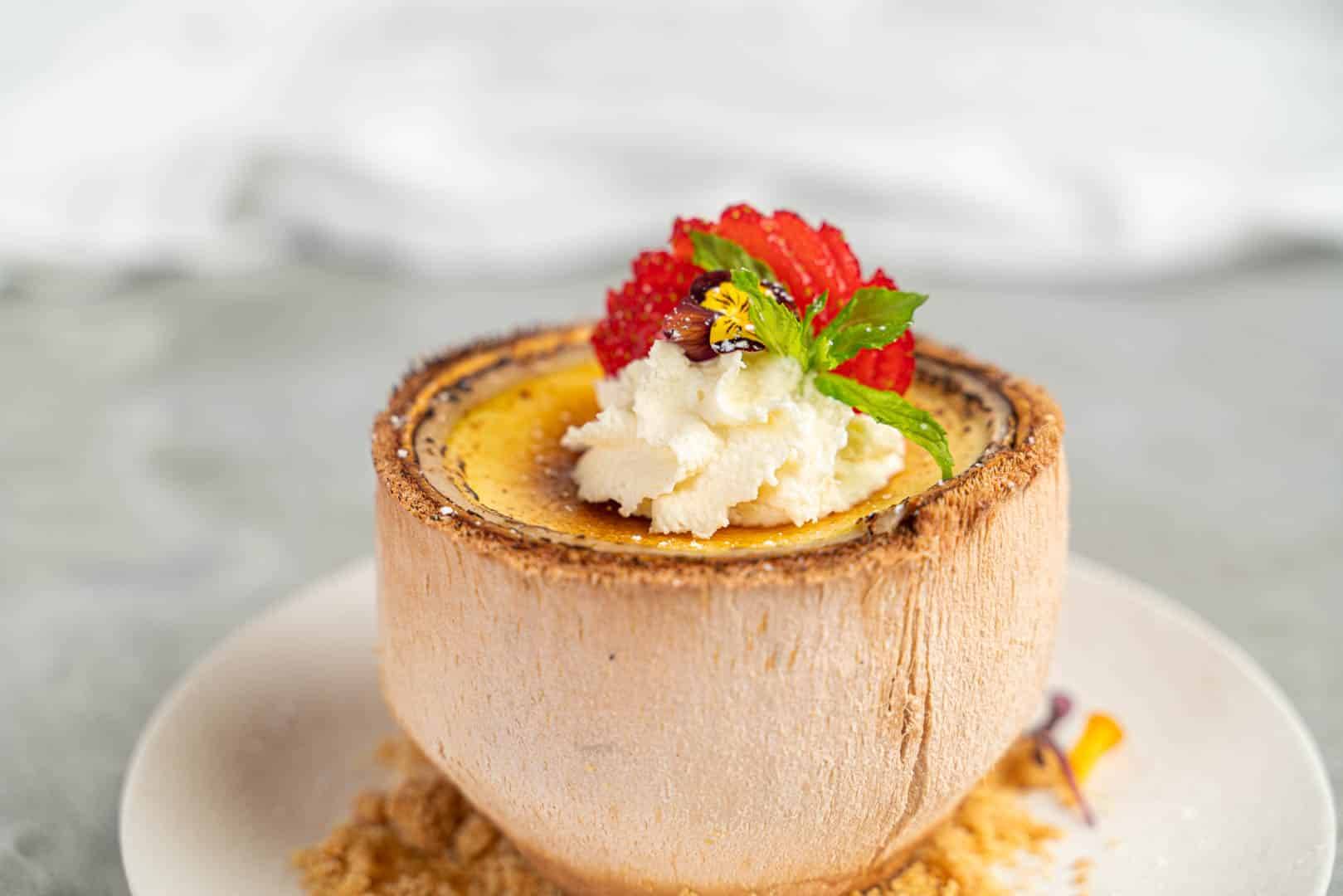 Coconut Crème Brûlée
Coconut Milk, Palm Sugar, Egg, Pandan Leaf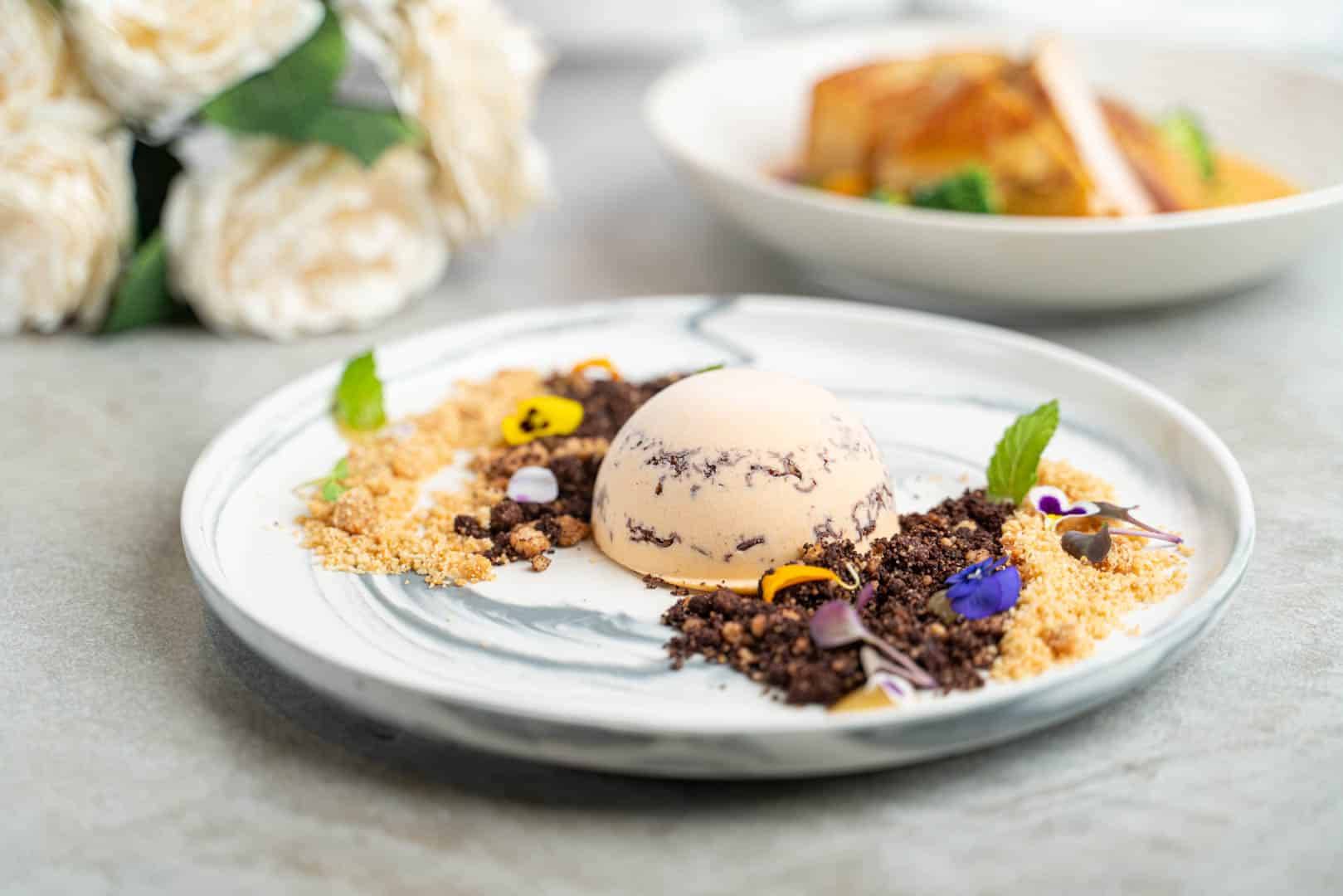 Thairamisu
Blend of Thai Iced Tea & Coffee, Cream, Spiced Biscuits & White Chocolate