Thai Cooking Class – D
September 24
@
4:00 pm
–
7:00 pm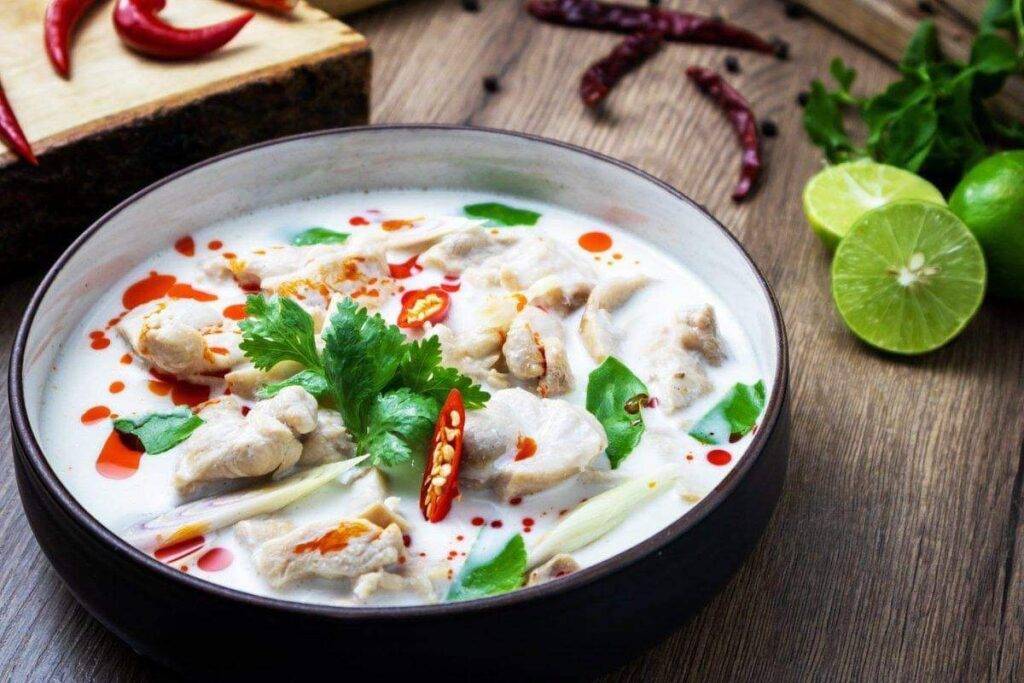 In this class, we will be exploring the rich and flavorful cuisine of Thailand by preparing three delicious dishes: Golden Pouch, Tom Kha Gai, and L'arb Mooh. Our class will run from 4pm to 7pm on September 24th, and during this time, our experienced chef, Dream Kinane, will guide you step-by-step through the cooking process. You will learn about the unique ingredients and techniques used in Thai cuisine and how to create the perfect balance of sweet, sour, spicy, and salty flavors.
By the end of the class, you will have the skills and confidence to recreate these dishes at home and impress your friends and family with your newfound culinary abilities. So, put on your apron and get ready to experience the vibrant and delicious world of Thai cuisine!
Limited to 14 people per class.
Menu
Golden Pouch – A delicious appetizer that will awaken your taste buds, the Golden Pouch is a crispy and savory treat that's easy to love. Stuffed with ground pork and shrimp that's seasoned with aromatic Thai herbs, and then deep-fried until golden brown, this dish is a perfect balance of texture and flavors that will leave you wanting more.
Tom Kha Gai – A bowl of Tom Kha Gai soup is like a warm hug on a cold day. This classic Thai soup is a creamy and comforting blend of coconut milk, tender chicken, and fragrant herbs like lemongrass, galangal, and kaffir lime leaves. It has subtle spiciness and tangy citrus notes that make it the perfect balance of sweet, sour, and savory flavors.
L'arb Mooh – L'arb Mooh is a mouthwatering Thai salad that's bursting with bold flavors and textures. Made with ground pork, roasted rice powder, lime juice, and fish sauce, this dish has a spicy kick and a tangy sourness that will leave your taste buds tingling. Packed with fresh herbs and vegetables, it's a dish that's both refreshing and satisfying, with a perfect balance of salty, sour, and savory flavors.
Date Time
Sunday, September 24th, 2023, 4:00 PM – 7:00 PM
(Doors open 15 minutes before class starts)
Location
Academy Room at Food by Fanta
107, 20542 Fraser Highway, Langley, BC V3A 4G2
Phone
The best way to reserve your ticket is to book online. Feel free to call us if you are experiencing difficulties at 778.242.1344.
Terms & Conditions
Cooking class registrations are non-refundable, but may be transferred with no fees 2 weeks prior to the date of the class. A $10 fee will be charged for transfers up to 3 days prior to the class. No refund will be issued for cancellations within 3 days of the class. A minimum number of registrations is required for the class to proceed. Please contact us if you have any questions.