Royal Thai Cuisine Cooking Class
October 29
@
5:00 pm
–
8:00 pm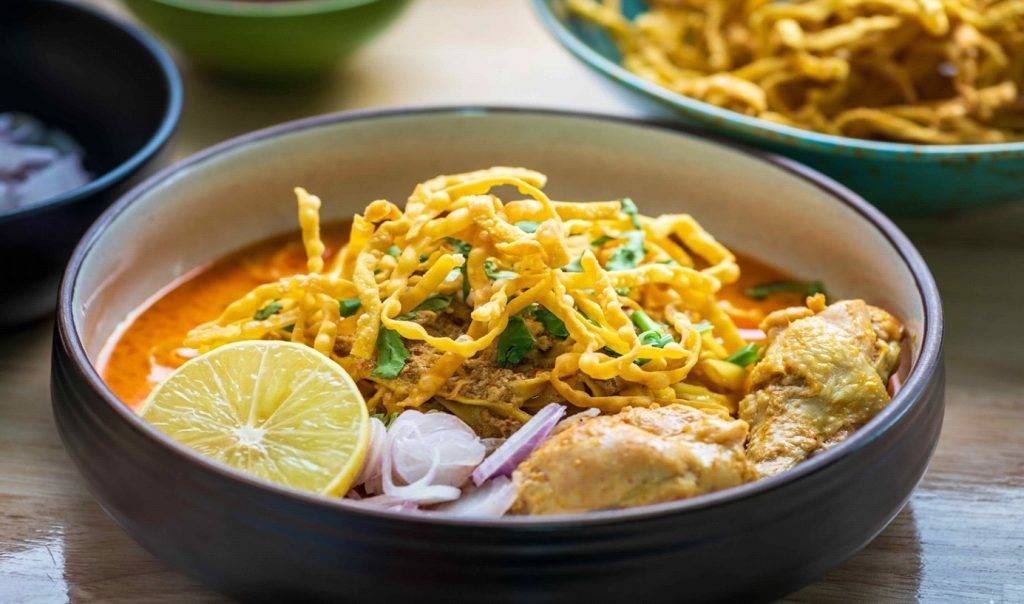 Embark on a culinary journey fit for royalty in our 'Royal Thai Cuisine' cooking class! Join us on October 29th, from 5 pm to 8 pm, as our expert chef, Dream Kinane, unveils the secrets behind three exquisite dishes: Khao Soi, Crispy Thai Pandan Chicken, and Bua Loi.
Throughout this immersive three-hour experience, you will delve deep into the opulent flavors and techniques that define Royal Thai cuisine. Chef Dream Kinane will guide you through every step, sharing insights into the unique ingredients and cooking methods that set this cuisine apart.
Discover the art of balancing sweet, sour, spicy, and salty flavors in each royal dish, creating a symphony of tastes that will leave your taste buds tingling with delight.
By the end of our class, you'll not only have savored these Royal Thai delicacies but also gained the skills and confidence to recreate them at home. Impress your friends and family with your newfound culinary prowess and dive into the vibrant and delectable world of Royal Thai cuisine. So, don your apron and prepare to indulge in a feast fit for kings and queens!
Limited to 14 people per class.
Menu
Khao Soi – Khao Soi, the crown jewel of Northern Thai cuisine, is a fragrant and flavorful curry noodle soup that combines soft and crispy textures with a harmonious blend of spices. Tender pieces of chicken or beef are simmered in a rich coconut curry broth, infused with aromatic herbs and spices. Served with both soft and crispy egg noodles, it's garnished with fresh herbs, pickled mustard greens, and a squeeze of zesty lime. The result is a royal feast for your senses, featuring layers of flavor and a delightful interplay of textures that's sure to leave you craving for more.
Crispy Thai Pandan Chicken – Our Crispy Thai Pandan Chicken is a regal treat that showcases the art of Thai marination and frying. Succulent chicken pieces are marinated in a blend of fragrant herbs and spices, then wrapped in pandan leaves before being deep-fried to a golden perfection. The result is an exquisite dish that boasts a crispy, flavorful exterior while preserving the juicy tenderness of the chicken within. Served with a dipping sauce that strikes a perfect balance between sweet and savory, it's a dish fit for royalty that's sure to captivate your palate.
Bua Loi – Bua Loi, or "floating lotus dumplings," is a delicately sweet Thai dessert that embodies elegance and simplicity. Glutinous rice flour dumplings, resembling lotus petals, are poached until they float to the surface, where they are then delicately scooped out. These tender dumplings are served in a warm, fragrant coconut milk broth infused with the subtle sweetness of palm sugar. The result is a comforting dessert that's both soothing and satisfying, reminiscent of the grace and beauty of Thai culinary traditions.
Date Time
Sunday, October 29th, 2023, 5:00 PM – 8:00 PM
(Doors open 15 minutes before class starts)
Location
Academy Room at Food by Fanta
107, 20542 Fraser Highway, Langley, BC V3A 4G2
Phone
The best way to reserve your ticket is to book online. Feel free to call us if you are experiencing difficulties at 778.242.1344.
Terms & Conditions
Cooking class registrations are non-refundable, but may be transferred with no fees 2 weeks prior to the date of the class. A $10 fee will be charged for transfers up to 3 days prior to the class. No refund will be issued for cancellations within 3 days of the class. A minimum number of registrations is required for the class to proceed. Please contact us if you have any questions.