Thai "Street Food" Cooking Class
November 5
@
5:00 pm
–
8:00 pm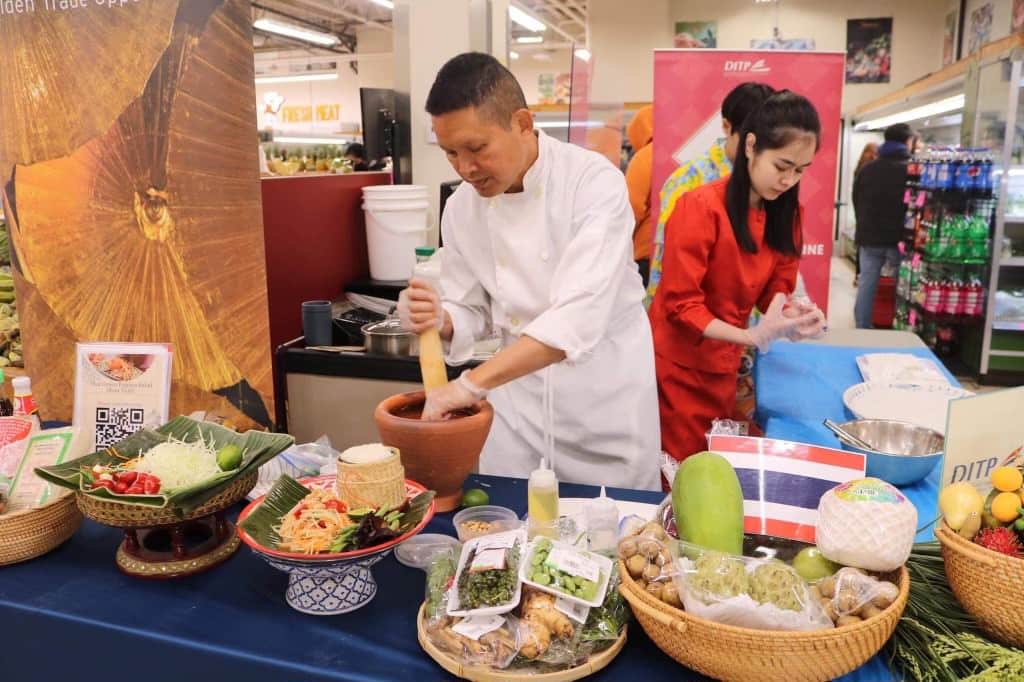 Chef Thammarat (Tom) Phorkphoonkham is a Canadian Red Seal-certified chef who specializes in Thai, French, and international cuisine. He was born and raised in Bangkok, Thailand. While growing up in the central part of the city, he lived on a small farm surrounded by coconut trees, banana trees, and various types of food. Cooking became an integral part of the culture that he grew to love, and he often helped his mother prepare meals for the family. In 1999, he left Thailand and moved to Seattle, Washington, USA, where he worked at Thai restaurants until 2007. He then relocated to Vancouver, BC, Canada, where he pursued his passion for cooking. He attended and graduated from a culinary arts program, becoming a certified Red Seal chef in Canada. Thammarat has worked in various establishments, including 5-star hotels, fine dining restaurants, hospitals, and senior homes.
Menu
Pomelo Salad – Our Pomelo Salad offers a harmonious blend of sweet, sour, and savory notes. This Thai classic starts with the luscious pomelo fruit, gently peeled and segmented, and then combined with a medley of fresh Thai herbs and a subtle hint of roasted coconut. The crowning glory is a tangy and invigorating dressing that perfectly complements the ingredients. The result is a refreshing and invigorating dish that tantalizes your taste buds with a delightful mix of textures and tastes.
Spicy Basil Chicken (Pad Ga Paw) – Our Spicy Basil Chicken, or "Pad Ga Paw," is a tantalizing masterpiece of Thai cuisine. We take tender pieces of chicken and stir-fry them with fragrant Thai basil leaves, fiery chilies, and aromatic garlic. The intense heat from the chilies is balanced by the herbal aroma of the basil, resulting in a dish that's both spicy and savory. The flavors meld together in the wok, creating a symphony of taste that awakens your senses and leaves you craving more of this authentic Thai delight.
Thai Tapioca Pudding – Indulge in the luxurious Thai Tapioca Pudding, a dessert that will satisfy your sweet tooth. a dessert that embodies the comforting sweetness of Thai culinary tradition. We begin with tapioca pearls simmered to perfection, absorbing the richness of coconut milk and the natural sweetness of palm sugar. To elevate this classic, we crown it with tender corn kernels, providing a delightful burst of sweetness and texture. Each spoonful offers a perfect harmony of flavors and sensations, concluding your Thai culinary journey on a sweet and creamy note.
Join us on November 5th from 5 pm to 8 pm for a Thai "Street Food" Cooking Class.
Limited to 14 people per class.
Date & Time
Sunday, November 5th, 2023, 5:00 PM – 8:00 PM
(Doors open 15 minutes before class starts)
Location
Academy Room at Food by Fanta
107, 20542 Fraser Highway, Langley, BC V3A 4G2
Phone
The best way to reserve your ticket is to book online. Feel free to call us if you are experiencing difficulties at 778.242.1344.
Terms & Conditions
Cooking class registrations are non-refundable, but may be transferred with no fees 2 weeks prior to the date of the class. A $10 fee will be charged for transfers up to 3 days prior to the class. No refund will be issued for cancellations within 3 days of the class. A minimum number of registrations is required for the class to proceed. Please contact us if you have any questions.