Thai "Street Food" Cooking Class
June 27
@
5:00 pm
–
8:00 pm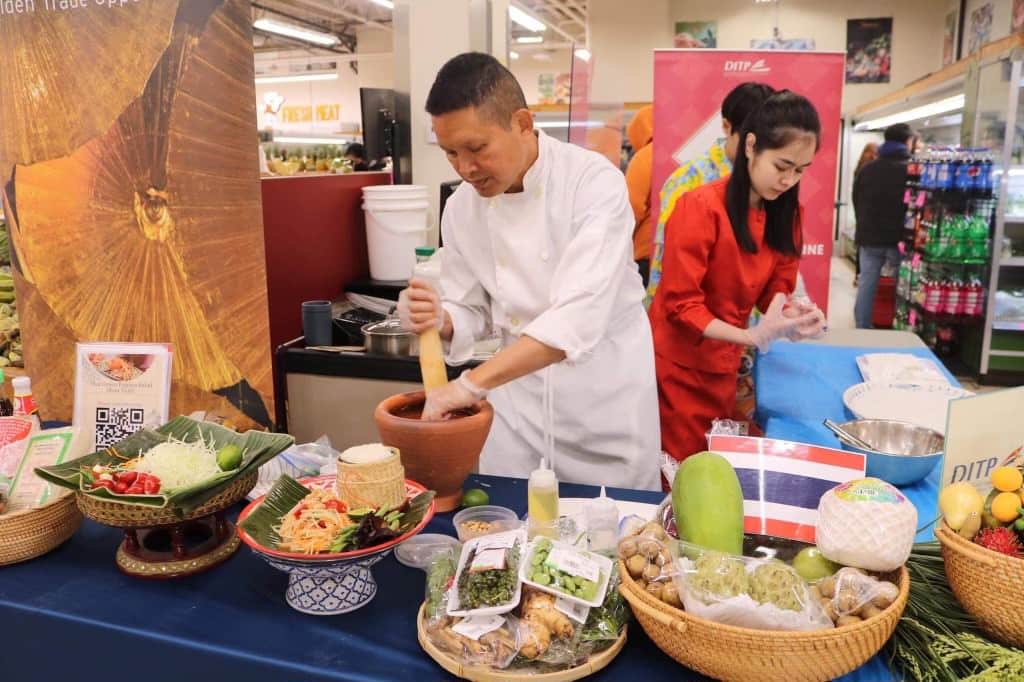 Chef Thammarat (Tom) Phorkphoonkham is a Canadian Red Seal-certified chef who specializes in Thai, French, and international cuisine. He was born and raised in Bangkok, Thailand. While growing up in the central part of the city, he lived on a small farm surrounded by coconut trees, banana trees, and various types of food. Cooking became an integral part of the culture that he grew to love, and he often helped his mother prepare meals for the family. In 1999, he left Thailand and moved to Seattle, Washington, USA, where he worked at Thai restaurants until 2007. He then relocated to Vancouver, BC, Canada, where he pursued his passion for cooking. He attended and graduated from a culinary arts program, becoming a certified Red Seal chef in Canada. Thammarat has worked in various establishments, including 5-star hotels, fine dining restaurants, hospitals, and senior homes.
One of his signature dishes is Som Tum Tard, which consists of Green Papaya Salad, BBQ Chicken, and Sticky Rice. Som Tum is a popular and widely available food in Northeastern Thailand. When you visit Thailand, you can find Som Tum sold as street food alongside BBQ chicken, BBQ pork, sticky rice, larb (ground beef or pork salad), beef salad (crying tiger), and tom zap (spicy soup). For an authentic Northeastern Thai meal, it is best served with sticky rice and BBQ chicken.
In recent years, there has been a trend of serving Som Tum in the middle of a large round plate with additional items placed around the edge. These extras include Moo Yor (Vietnamese pork sausage), Naem (fermented pork sausage), Khai Khem (salted egg), Century Egg, and Khep Moo (fried pork skin). It creates a delightful and flavorful combination.
Join us on June 27th from 5 pm to 8 pm for a Thai "Street Food" Cooking Class.
Limited to 14 people per class.
Date & Time
Tuesday, June 27th, 2023, 5:00 PM – 8:00 PM
(Doors open 15 minutes before class start)
Location
Academy Room at Food by Fanta
107, 20542 Fraser Highway, Langley, BC V3A 4G2
Phone
The best way to reserve your ticket is to book online. Feel free to call us if you are experiencing difficulties at 778.242.1344.
Terms & Conditions
Cooking class registrations are non-refundable, but may be transferred with no fees 2 weeks prior to the date of the class. A $10 fee will be charged for transfers up to 3 days prior to the class. No refund will be issued for cancellations within 3 days of the class. A minimum number of registrations is required for the class to proceed. Please contact us if you have any questions.